I Have a Question about Unpaid Internships
I read this editorial in the June 27, 2012 issue of The Architect's Newspaper.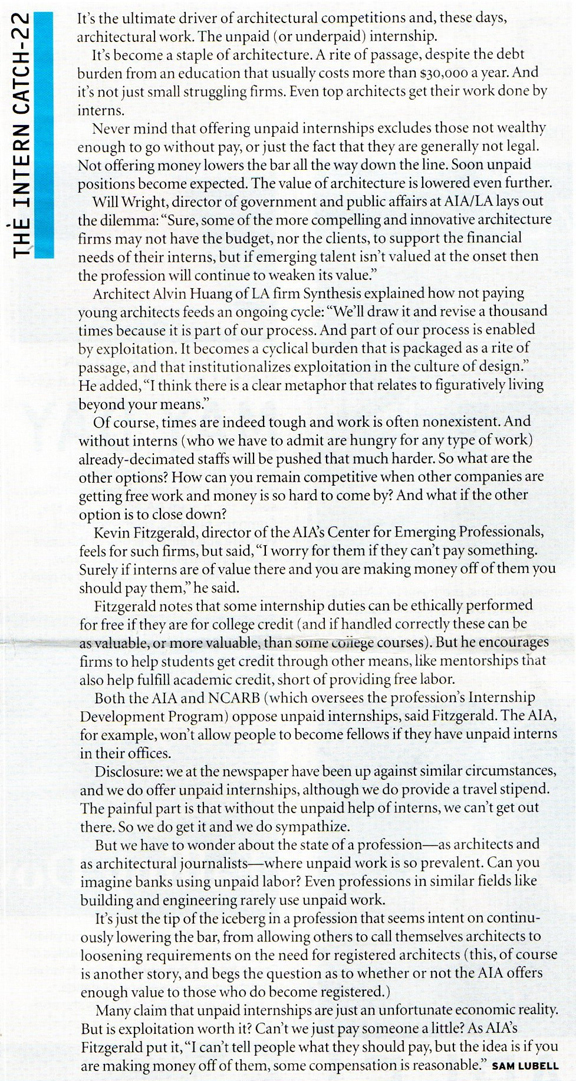 Printed in the July 18, 2012 issue was this response:

Which begs the question: What is it that students are doing in school (aside from spending years of their lives and going into debt tens of thousands of dollars) if, upon graduation, they are so useless that their employers have no good reason to award a paycheck?
Did you work an unpaid internship? You may be interested in this class-action lawsuit.
+ Did you enjoy this?
1. Like Architecture Addiction and you'll receive notifications on Facebook when there's something new on the site.
* Some browsers don't show the Facebook Like Box -- and no one seems to know why! If you don't see our Facebook Like Box, you can use this link to visit Architecture Addiction on Facebook.

2. Donate a book to the Architecture Addiction Library
3. Support this site. People typically give $12. You help make Architecture Addiction possible. Thank you for your support!
4. And tell me what you think... I really want to know!
Comments